The Four Stages of the Fairly Odd Parents





patrick o'connor
The Fairly Odd Parents, created in 2001, has a simple enough premise for a cartoon. Timmy is a normal little boy trying to grow up in a world where his parents are idiots and his babysitter is straight up evil. Timmy has two Fairy Godparents, Cosmo and Wanda, that grant his every wish. Each episode usually consists of Timmy making a shortsighted, crazy wish that he thinks will make his life easier and the wish then backfires. Timmy then has to fix the consequences of the wish, usually without the help of his fairies because of a massive rulebook that prohibits the use of magic in varying circumstances. Timmy has wished for everything from complete silence that almost caused the apocalypse by meteor to wishing for super hero friends that try to kill his old group of normal friends. As a child, I used to come home from school every day and immediately sit to watch the episode that would start at 2:30. I fell in love with the show and thought it was the single funniest thing I had ever seen. As an adult, I still enjoy the humor-laced shenanigans.
The only problem is that plot is repetitive.

Watch the show enough and it becomes easy to predict the next joke and how they escape the current episode's predicament.

The show bores when every episode ends up making the viewer think…

"WHAT THE HELL KINDA WISH WAS THAT?"
Every episode begins with Timmy having some sort of problem that he attempts to wish away. The only thing is, he makes the worst possible wishes. His wishes are always extremely broad with an obviously massive potential to backfire. Plus, a lot of the time the wish doesn't even seem to fix the problem he is having. For example, in the episode "Pipe Down!" Timmy gets fed up with everybody seemingly yelling at him at once. He wishes for everything in the world to be absolutely silent. Are you kidding me with that wish? I understand that the show can't have Timmy make perfect wishes that solved all his problems because then there would be no plot, but his wishes are so bad I usually end up "what the hell kinda wish was that?' out loud. As soon as Timmy's wish starts to cause him trouble I immediately think…

"OBVIOUSLY…"
Whether their accidentally cause an alien invasion or creating a video game that can kill, Timmy's wishes eventually backfire in a pretty spectacular fashion. His wishes end up causing him more trouble than the original problem the wish fixed. His misfortune is always caused because he made a short-sighted wish that he didn't think about the results of the wish. As soon as his wish backfires you end up thinking "Obviously if you wish everyone's costumes were real on Halloween then people are going to end up attacking each other."
As soon as Cosmo, Wanda, and Timmy realize that their wish backfired and they have a problem, Cosmo will offer a solution that is so dumb and illogical that it's hilarious. This one joke has appeared in every episode and yet it is still funny every time. Cosmo's stupidly funny suggestion to fixing Timmy's problem always happens right after the most serious point in the show and serves to lighten mood by making you chuckle a little bit and just marvel at the idiocy that is Cosmo from The Fairly Odd Parents.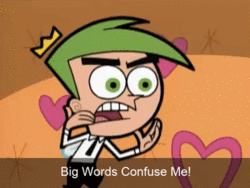 At the end of each episode, everything returns to the way it was in the Fairly Odd Parents world. Frequently Timmy simply un-wishes whatever disaster his most resent wish has created. No matter what happens to Timmy and his Godparents they will always return to normal and no one will ever mention events of the episode ever again. At least that means the only facts you need to know to enjoy the show are in the freaking awesome intro song.
Patrick O'Connor is a 19 year old writer from North Andover, Massachusetts.

He is also a first year student at the Isenberg School of Management where he plans earning his masters in Accounting.

During the summer, He works at a Boiler manufacturing company to pay for school.

O'Connor's dream is to become a forensic accountant and follow in his father's footsteps by joining the Massachusetts State Police.

He is the youngest of four and enjoys spending time with his entire family.

O'Connor is an avid Boston Bruins fan and enjoys reading fantasy novels and playing video games during his free time.