How Lizzie McGuire

'

s Character Gordo Has Shaped My Entire Existence




(maybe not my entire existence, but a lot of it)



Sarah Elizabeth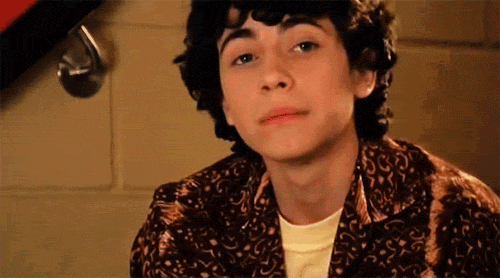 Lizzie McGuire- ahhh. What 2000's kid doesn't remember a good ole' episode of Lizzie McGuire? As for me, I was one of those 2000's kids who had seen every episode four times by the end of the last season. Lizzie Mcguire was by far my favorite show as a child. But Lizzie Mcguire wasn't just a TV show- it was a culture that every girl in my grade (and probably country) was obsessed with (and a guy would be lying if he says he has never seen at least an episode or two before) I dreamt of being exactly like Lizzie; I longed to dye my hair blonde and accessorize my outfits with butterfly clips and funky jewelry. To complete the obsession, for my school project in 2nd grade we were assigned to create our own themed clocks, so of course I did a Lizzie Mcguire clock.
But my obsession with Lizzie McGuire wasn't just with Hilary Duff's character- it also had to do with my deeply rooted, unrequited love with the supporting character Gordo. Gordo was so dreamy, and I loved that he was quirky and cool. While I felt like the other girls lusted after the show's hottie "Ethan", I believed that I was the only one loved the underdog. The best moment of my life (up to about 6th grade) was even Gordo related. Basically, my dad owns a fairly well known restaurant in NYC, and during the summers he would have an italian ice stand in front of his restaurant. The guy who worked the italian ice stand was actually friends with Gordo (his actual name is Adam Lamberg), so Gordo would come visit the guy. One day after school, I got a phone call from my dad and then all of the sudden I heard Gordo's voice from the other receiver-
I HAD A PHONE CONVERSATION WITH HIM!!!




I had a whole conversation with Gordo and by the end I was shaking. I still have the printed CVS pictures of him from when he would stand outside my dads restaurant with his friend.


But, as time does go on, I eventually lost interest in Lizzie McGuire and found new shows to be obsessed with (Breaking Bad, Skins, Weeds to name a few) and new fictional characters to fall in love with. It wasn't until recently though that I decided to revisit Lizzie McGuire, being the show did have such a big impact on my life. It wasn't until after I had only one watched the show that I realized what an impact it had on my life, but more importantly that quite possibly everything I have become is because of Gordo.
So now, six episodes deep, and this is what I've realized about my life:
1.
I have a soft spot for dark haired, blue eyed Jewish guys.
So basically Gordo:
In the first episode I re-watched of Lizzie McGuire, Gordo
'
s Bar Mitzvah,
Gordo, who is undeniably Jewish, makes a speech about growing up at his Bar Mitzvah. It got me thinking, could it be that my love for Gordo carried over into my adult life? Right after my Lizzie McGuire phase fizzled out, I had my first kiss with a dark haired, blue eyed boy. Coincidence? I think not. Also, did my love for Bob Dylan (also a curly haired, blue eyed Jewish guy) actually stem from his music, or was it from my predisposition to love any one who resembled Gordo?
2. My dream job is to be a director.
Again, just like Gordo:
In the same episode,
Gordo's Bar Mitzvah,
Gordo makes a documentary type movie about when other men thought they first became a man. He enjoys making movies and throughout the series he is usually seen bringing his camera along. Then there's me. From the time I was about 16, I knew I wanted to be a part of something in the film industry. I had been making movies from old home videos and turning them in abstract art, music video type things. My love for film drove me to take a films class my senior year of high school. We had a section on Steven Spielberg movies and I instantly fell in love with his directing style and all of his movies. Fast forward to now, and I'm rewatching Lizzie McGuire (when I put it like that it's kinda sad) and I have found out that Gordo's favorite director is Steven Spielberg and that he likes to make movies in his spare time.
3. I've always been frugal with money.
In the next episode I watched,
Gordo Shuffle
, Gordo receives a credit card in the mail. He almost throws it away except Lizzie tells him to keep it. Lizzie tells Gordo that it's just going to sit in his wallet because he will never use it. Gordo decides to use the credit card to pursue his dream, aka to start his his big movie. Just like Gordo, I too have always been extremely frugal with my money from a young age. My parents always told me that I was the responsible with money child, because I would never let my parents buy me things that I didn't need when I was little. Even as an adult, I barely spent money on anything I didn't absolutely need. The only purchase that I ever splurged money on was to buy a digital SLR camera, something I wanted so I could start recording my own movies (the parallelism is starting to get weird).
4. I am extremely sarcastic (or at least I think I am).
I picked up on Gordo's sarcasm from the very first episode that I rewatched. Similar to Gordo, I've employed sarcasm in many different situations in life, but mostly when dealing with people I don't like. In the episode titled,
The Untitled Stan Jansen Project
, Gordo uses sarcasm to shoo away the Queen Bee Kate Saunders. Just like Gordo, I've used sarcasm as a defense mechanism throughout my entire life.


5. Loyalty is the most important quality that I look for in a person.
In my all time favorite episode of Lizzie McGuire,
You're a Good Man, Lizzie McGuire
, Gordo shows that he too believes that loyalty is an important quality. Instead of going to the dance that Lizzie was not allowed to go to, he chooses to bring the party to her. Like Gordo, I have always found that I cherish loyalty in a person. My friend once got in trouble in 4th grade for talking during class when it was really me. Being a loyal friend was always so important that I decided it was worth the risk to correct my teacher in order to keep my friendship with my friend (I got in trouble too!).
Maybe it's all in my head, but to me it seems like my life was extremely shaped by Lizzie McGuire's character Gordo. He possessed qualities that I can't help but recognize in myself today. Could it be that my undying love for Gordo unconsciously shaped my characteristics to be more like him? Or could it be that I was so exposed to his character as a young, impressionable girl that I just naturally adapted to his personality. Whatever the case may be, I can't help but think that the similarities between me and Gordo are more than just coincidences.

Sarah Elizabeth is a writer from a small town in Northern New Jersey, who is currently a freshman and Communications major at the University of Massachusetts Amherst. During the summertime she waitresses at a Luncheonette in NYC's Upper East Side. In her spare time, Sarah enjoys listening to Simon & Garfunkel (preferably on vinyl), drinking coffee, and watching independent movies until four o'clock in the morning. When Sarah is older she hopes to travel to every major European city and make her own documentaries on social issues.